"Music is the lifeblood that fuels my creative fire."
| | |
| --- | --- |
| | The Brooklyn Museum's "It's Pablo-Matic" Is a Problem of Its Own |
What's Happening: Hannah Gadsby's hamfisted vamping on Pablo Picasso's legacy has sparked biting takedowns and dogged defense. The show aims to invite complexity into the Spanish Cubist's "male-genius" legacy, but does it lean too heavily on surface-level wokeness?

The Download: If the Brooklyn Museum's upcoming "It's Pablo-Matic"—an exhibition about Picasso's unsavory legacy co-curated by Australian comedian Hannah Gadsby—has succeeded at one thing, it's causing a stir. Days before the show opened, it inspired takedowns so vicious they could sit alongside Pete Wells' greatest hits. "There's little to see," writes New York Times art critic at large Jason Farago. "There's no catalog to read. The ambitions here are at GIF level, though perhaps that's the point." ARTnews called it "disastrous." The unsparing backlash has sparked backlash of its own, with both sides spurning each others' divergent approaches to art history.

First, some backstory. This year marks the 50th anniversary of Picasso's death, and a slate of exhibitions around the world are wrestling with his legacy. It's a messy affair: the Málaga-born Cubist remains one of the 20th century's most vaunted artists, but his treatment of women was less than savory. The late Françoise Gilot chronicled her tumultuous decade-long relationship with Picasso in a 1964 memoir that has since become a seminal feminist text. Dora Maar, long written off as one of his muses, bitterly resented the label: "All [Picasso's] portraits of me are lies," she once said of his Weeping Woman series. "Not one is Dora Maar."

Neither appears in "It's Pablo-Matic." Instead, Gadsby—with the help of in-house curators Lisa Small and Catherine Morris—includes eight minor works by Picasso peppered with pieces by female trailblazers (Kiki Smith, the Guerrilla Girls, Mickalene Thomas) made years after Picasso's death to redress his inflated "male genius" ego. While they indeed grapple with misogyny, their links to him are tenuous at best; many have little to say about his legacy. That doesn't apply to Gadsby, who decried him as "rotten in the face cavity" in Nanette, their 2018 Netflix special. "I hate Picasso! I hate him!" As a text at the exhibition's entry aims to reassure viewers, "admiration and anger can coexist."

Anger seems to prevail. Gadsby's Twitter-friendly musings ("weird flex," or "if PETA can't cancel Picasso, no one can") divert attention from the show's otherwise apt curatorial vantage point on the cult of male genius and the rise of feminist art history. This brings one of Farago's biggest pain points to the fore: "[It's Pablo-Matic] backs away from close looking for the affirmative comforts of social-justice-themed pop culture," he writes, not unlike spreading folk knowledge online vetted by pure vibes. "The function of a public museum (or at least it should be) is to present these women's full aesthetic achievements. There is also room for story hour, in the children's wing." Or perhaps the show struck a "hysterical" male nerve.

In Their Own Words: Anne Pasternak, the Brooklyn Museum's director, acknowledges that controversy was baked into the show's premise. "To those who question whether Gadsby's voice belongs in this exhibit, I would simply ask: Whose interests are threatened by including it? Or, who benefits from excluding it? Ours is an exhibition that invites complexity. And I'm confident Picasso can handle a little complexity. In fact, he invited it. I'm also confident that our audiences can handle complexity, too."
| | |
| --- | --- |
| | What Else Is Happening? |
| | |
| --- | --- |
| | Plans are underway to renovate the western side of New York City's Lincoln Center. |
| | |
| --- | --- |
| | The Sarasota Performing Arts Foundation picks Renzo Piano to design its new building. |
| | |
| --- | --- |
| | Ebony magazine's vibrant test kitchen has found a new home at the Smithsonian. |
| | |
| --- | --- |
| | After shifting attitudes toward fur, PETA is setting its sights on wool, leather, and down. |
| | |
| --- | --- |
| | The Harvard Graduate School of Design names next year's Loeb Fellowship recipients. |
Reach the design world every morning. Find out more about advertising in the Design Dispatch.
| | |
| --- | --- |
| | Kelly Wearstler Adds Another Jewel to the Austin Proper's Crown |
Austin Proper Hotel has unveiled its latest hospitality venture: The Quill Room, an enchanting cocktail lounge fashioned by renowned designer Kelly Wearstler, who conceived the entire property from tip to toe. This exclusive space joins the hotel's culinary repertoire including the Mediterranean-inspired The Peacock, vintage cocktail bar Goldie's, and rooftop gem La Piscina. The Quill Room is a tapestry of old-world charm and contemporary elegance, tucked away on the second floor for hotel guests and residents. It's the kind of place made for a late-night rendezvous, against a backdrop of live music and French-inspired menu.

The aesthetics are as vibey as the ambiance. At its heart is a bar, a fusion of wood and metal with neon touches by a local Austin artist, greeting guests along with a bartender who might be shaking up a Bordeaux Sour or perhaps an ice-cold number from the martini menu. Furnishings from the '60s to the '90s, sourced from across Europe and the local renowned Round Top Antiques Market, add an eclectic charm that feels like one of Paris's turn-of-the-century salons was kissed with a Texas touch.
| | |
| --- | --- |
| | Metrograph Honors Karl Lagerfeld's Legacy as a Costume Designer |
Thanks to the Metropolitan Museum of Art's Costume Institute exhibition, Karl Lagerfeld's impact on fashion is more well-understood than ever. Starting on June 9, Metrograph will pull into focus the late couturier's affinity for film and little-known work as a costume designer. The Manhattan fixture of art house cinema will screen Barbet Schroeder's erotic comedy Mistress (1976) and Pedro Almodóvar's High Heels (1991, pictured above). The films feature Lagerfeld-designed costumes created during his tenure at Chloé and Chanel, respectively. Metrograph will also screen Fritz Lang's Metropolis (1927) and Alain Resnais' Last Year at Marienbad (1961), two of the designer's favorite films.
| | |
| --- | --- |
| | Un Lac Inconnu (An Unknown Lake) |
When: Until Sept. 24

Where: Villa Heleneum, Lugano, Switzerland

What: Bringing together more than 20 artists to Bally Foundation's new headquarters on the shores of Lugano, "An Unknown Lake" explores connections between submerged and emerged landscapes and gives shape to the elusive nature of water. Works by the likes of Vito Acconci, Angela Bullock, Caroline Bachmann, and Yannick Haenel delve into the evocative power of nature and offer a journey into the subconscious and the depths of our memories.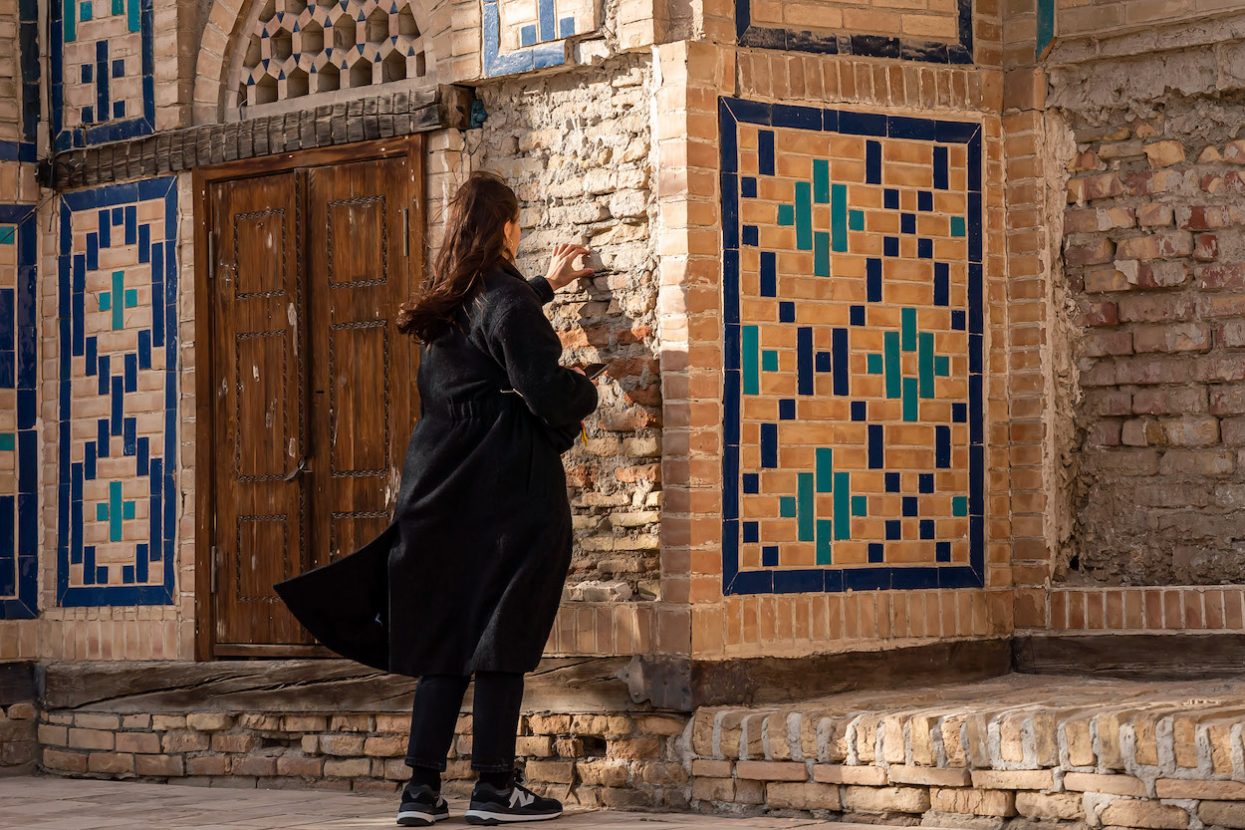 | | |
| --- | --- |
| | ICYMI: Studio KO Journeys Into Uzbek History |
Karl Fournier and Olivier Marty founded Studio KO in 2000, after graduating from the architecture program at École des Beaux-Arts in Paris. Since then, they've opened offices there, in London, and in Marrakech, where they designed the Musée Yves Saint Laurent Marrakech. That building, with its sumptuous facade that ripples like silk, showed the firm's forward-thinking use of terracotta brick.

This year's Venice Biennale has the theme of "The Laboratory of the Future." Studio KO embraced this idea in its design for the Uzbekistan Pavilion, developing a series of student and artisan workshops investigating the bricks used to build the Qalas, a 4 BCE—7 CE Zoroastrian fortress in the Central Asian country's northern reaches. The result, "Unbuild Together: Archaism vs. Modernity," is a mysterious and resonant maze spotlighting ancient and forward-thinking materials. Fournier and Marty recently called Surface to discuss those workshops, brick's infinite possibility, and the need for emotion.
| | |
| --- | --- |
| | Member Spotlight: II BY IV DESIGN |
Founded in 1990 by partners Dan Menchions and Keith Rushbrook, II BY IV DESIGN is a multi-faceted global studio with more than 34 years of experience creating transformative designs that stand the test of time.
Surface Says: Modern luxury is inherent in this firm's substantial portfolio, as is a total mastery of materials.