"We stopped taking everything so seriously, and everything started to flow."
| | |
| --- | --- |
| | A Colossal Ship-Like Artwork Evoking America's Slave Trade |
What's Happening: For his first public artwork, renowned conceptual artist Charles Gaines mounts a giant installation on Governors Island that recreates the experience of traveling on a Transatlantic slave ship.

The Download: Perched on the edge of New York's Governors Island beneath Outlook Hill is a monolithic wooden structure that slightly resembles the hull of a ship. Look closer, and you may see passersby wandering inside, captivated and overwhelmed by rows of giant steel chains rumbling overhead. Yes, it's a slave ship. The work is the second part of California artist Charles Gaines' The American Manifest, the 78-year-old's inaugural public art project that critiques America's racist track record. "It shows the history of slavery, Manifest Destiny, colonialism, and imperialism as an interlinking narrative," he says. "Standing in the middle of it and hearing the sounds exist in time is pretty emotional."

The 100-foot-long structure's interior—clad in Sapele, a sustainably harvested wood also known as African Mahogany—replicates the feeling of being trapped on deck that enslaved Africans endured during the Transatlantic journey to the New World. (Its location overlooking the Statue of Liberty, a global symbol of freedom yet a site that welcomed slave ships, is no coincidence.) Eight rows of colossal motor-operated steel chains continuously churn at 15-minute intervals, matching the pace of New York Harbor's currents, while the central ninth one moves faster, evoking a barge navigating down a river.

The idea of systems—whether deeply entrenched social systems that continue to reinforce racism, or mechanical ones that keep chains continuously moving—has long been central to Gaines's practice. His early work, in the 1970s, deconstructed images of trees into gridded drawings based on letters, numbers, and formulas. (Coveted by collectors, they continue to fetch high prices.) He later transposed texts by the likes of Frederick Douglass and Martin Luther King, Jr., into musical scores by matching individual letters to notes, which are then performed by an ensemble. Selling sheet music set to an excerpt of an 1876 speech by Douglass raised $700,000 for Moving Chains.

Though seemingly simple at the outset, realizing Moving Chains was a Herculean endeavor across an unlikely eight-year time frame. The arts agency Creative Time envisioned the work sitting underneath the Gateway Arch in St. Louis, but funding fell through and progress stalled. The delay afforded Gaines time to expand the project into multiple parts, the first of which, titled Roots, brought upside-down Sweetgum trees and a performance of Manifestos 4: The Dred and Harriet Scott Decision to Times Square. And when Moving Chains wraps up, in June, the sculpture will travel to various sites along the Ohio River, in Cincinnati, where it will join more site-specific works that unpack the legacies of settler colonialism.

In Their Own Words: "I hope it encourages a conversation about these issues," Gaines tells Artnet News. "In this country, there's a general belief that a work of art is supposed to be an expression of beauty, that art isn't intended to contribute to the political or social understanding of society—but the two parts are inextricably linked. Art as an aesthetic experience and its purpose."
Surface Says: The American Manifest is a powerful foray into public art for Gaines. We hope it doesn't take another 78 years to realize his next one.
| | |
| --- | --- |
| | What Else Is Happening? |
| | |
| --- | --- |
| | Billionaire Boys Club unveils its new Wynwood space designed by Snarkitecture. |
| | |
| --- | --- |
| | Hamburger Bahnhof shuts off a neon Dan Flavin artwork for the first time in 26 years. |
| | |
| --- | --- |
| | Rodney Graham, a globally renowned polymathic artist who charmed critics, dies at 73. |
| | |
| --- | --- |
| | Former RIBA presidents criticize the Sainsbury Wing redesign by Selldorf Architects. |
| | |
| --- | --- |
| | Zaha Hadid Architects wins the competition to design a sports center in Hangzhou. |
| | |
| --- | --- |
| | How Prints and Photography Shaped the Women's Movement |
In Carmen Winant's A Brand New End (2022, Philadelphia Print Center), more than 400 illustrations and photos highlight the role of both mediums in elucidating the impact of domestic violence and furthering the women's movement. Images, prints, and press clippings sourced from Philadelphia nonprofit Women in Transition and the National Coalition Against Domestic Violence are paired with text contributions from prominent cultural figures like artist Catherine Opie and photojournalist Donna Ferrato, who reflect on the complexity of working such imagery into the mainstream.

On Thursday, Oct. 27, the Philadelphia Print Center will celebrate the book's publication by hosting a panel discussion in person and on Zoom. Panel members include Yoonjai Choi, Ksenia Nouril, Drew Sawyer, and Paige Sweet.
| | |
| --- | --- |
| | A Subtle Yet Sweeping New Home for Moroso |
Exuberant colors and daring forms have long defined the furniture of Moroso, so when creative director Patrizia Moroso was eyeing an expansion of the Italian design mainstay's presence in New York to celebrate its 70th anniversary, she envisioned an all-encompassing showroom that would give its growing repertoire of finely crafted furnishings ample room to thrive. Spearheading the redesign was none other than Patricia Urquiola, the Spanish-born architect whose relationship with Moroso spans 25 years and includes such memorable launches as the Scandinavian-inspired Lilo armchair and plush Redondo sofa.

True to Moroso's vision, Urquiola devised a stripped-back interior that serves as a supportive backdrop. Visitors enter a large double-height space enveloped entirely in warm terracotta and wood tones before snaking through a pathway of galleries, where artful vignettes convey Moroso's lifestyle-driven approach. Currently on display are nature-inspired collections by Swedish designers Sofia Lagerkvist and Anna Lindgren of Front, a mezzanine display of the brand's ongoing collaboration with Diesel Living, and Square tables and armchairs by Jonathan Olivares. Expect the offerings to change periodically, especially in the newly appointed "Gallery of Wonders" that presents works of collectible design.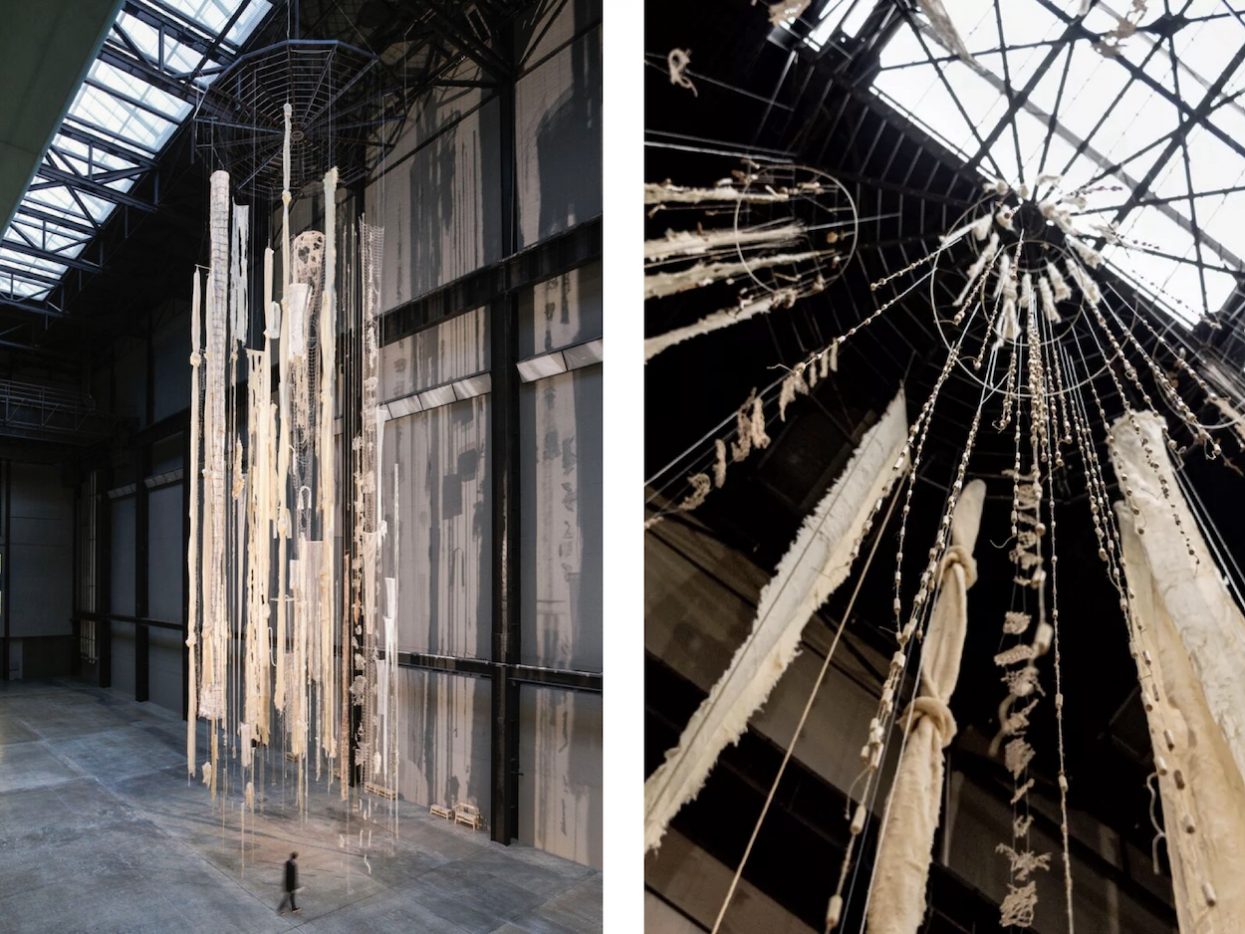 | | |
| --- | --- |
| | Cecilia Vicuña: Brain Forest Quipu |
When: Until April 16

Where: Tate Modern, London

What: For the prestigious Hyundai commission overtaking Tate Modern's Turbine Hall, Vicuña transformed the soaring space into a multimedia experience that mourns the destruction of nature and the loss of Indigenous culture. Hanging nearly 90 feet from the ceiling are two textile sculptures woven together with found objects, unspun wool, and plant fibers to evoke a ghostly, bleached-out forest. Joining them are sound installations created with composer Ricardo Gallo that unite Indigenous music and field recordings of nature. Vicuña urges visitors to think about the destruction of forests, violence against Indigenous people, and how we can come together in a spirit of repair.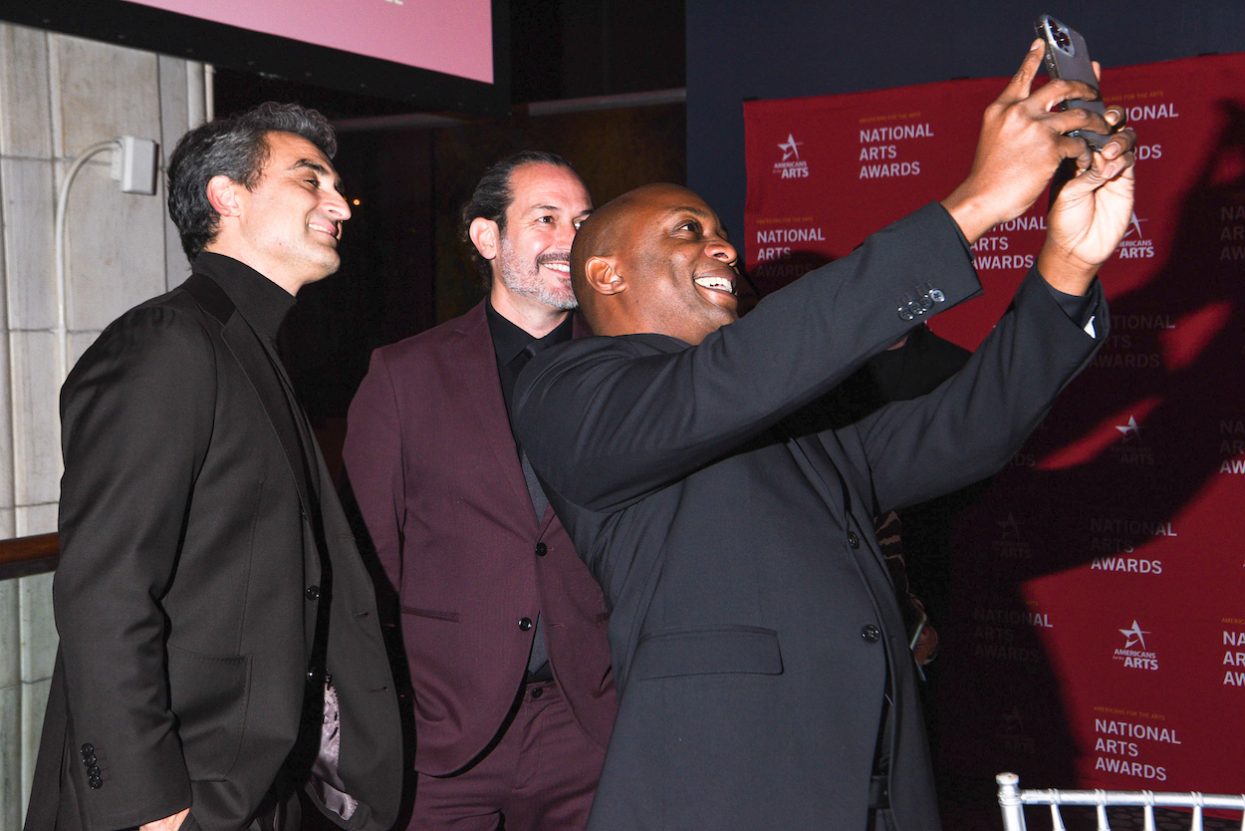 | | |
| --- | --- |
| | The National Arts Awards Honors Creative Thinkers Spurring Social Change |
Americans for the Arts presented the annual National Arts Awards at Guastavino's in New York to celebrate National Arts and Humanities Month. The evening honored artists, activists, and collectives whose work advances social justice initiatives in the U.S., including poet Joy Harjo, actor Darren Criss, artist collective For Freedoms, philanthropist Robert F. Smith, and the Gordon Parks Foundation. The awards were unveiled in a ceremony by chairperson Sarah Arison before musical accompaniment—an arrangement of Criss's music and Harjo's poetry among an immersive setting designed by artist José Parlá—wrapped up the evening.

When was it? Oct. 17

Where was it? Guastavino's, New York

Who was there? Jon Batiste, Brian (KAWS) Donnelly, Nicola Vassell, Gina Belafonte, Wyatt Gallery, Michelle Woo, Nolen V. Bivens, and more.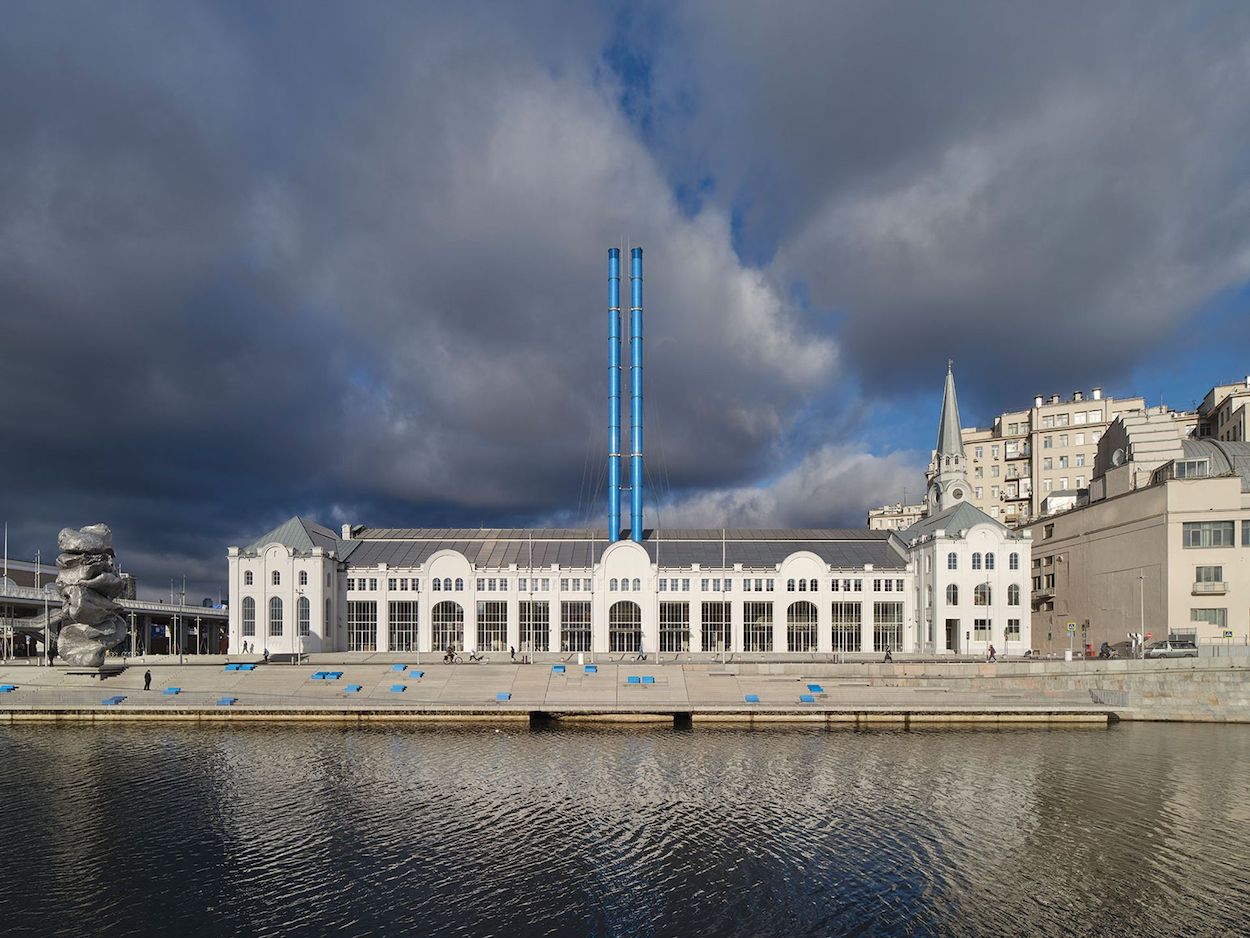 | | |
| --- | --- |
| | ICYMI: A New Museum's Downfall Embodies Russia's Cultural Decline |
GES-2 House of Culture, a contemporary art museum located opposite the Kremlin, opened this past December to much fanfare and promise. Joining the Garage Museum and the Pushkin State Museum along Moscow's Museum Mile, the highly anticipated institution was intended to mirror the Soviet "Houses of Culture" in the late 19th century that brought theaters, galleries, libraries, cinemas, and schools together under one roof. The project is the brainchild of Novatek gas magnate and oligarch Leonid Mikhelson's nonprofit V-A-C Foundation, which aims to elevate Russian artists to the international sphere.

Though GES-2 opened to acclaim and heralded an exciting addition to Moscow's burgeoning presence in the contemporary art landscape, Russia's invasion of Ukraine two months later has dampened the early excitement. Since then, the institution has been beset by a controversial slew of high-profile resignations, canceled exhibitions, and anti-war protests that have come to symbolize how cultural sanctions are impacting Russia's creative clout.
Reach the design world every morning. Find out more about advertising in the Design Dispatch.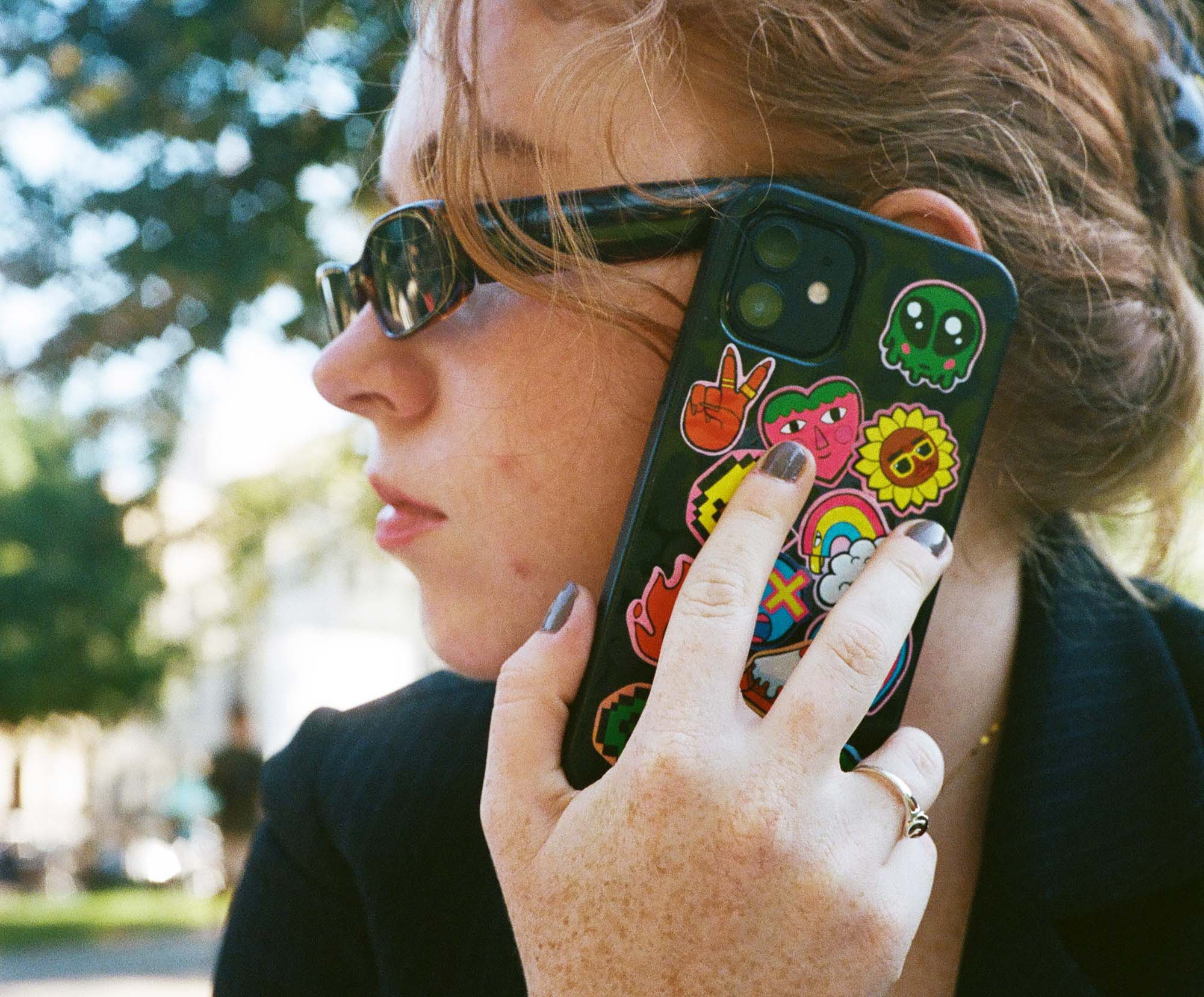 | | |
| --- | --- |
| | Member Spotlight: Apply |
Apply is a new kind of sticker brand committed to creativity. Stickers are natively collaborative, and when placed on an object, they add energy, color, expression, and personality. Apply partners with artists to expand the frontiers of the sticker-verse, and the brand hopes that each collaboration will bring new perspectives and canvases for exploration.
Surface Says: Apply's collaborations with both emerging and established artists redefine what it means to have art at your fingertips.