"If my work brings an unexpected beauty, interest, and harmony to an environment, that's enough for me."
| | |
| --- | --- |
| | Barbara Kruger Is More Relevant Than Ever |
What's Happening: Four decades into her career, the virality of her work in the wake of Roe v. Wade's overturning and a dizzying new show at New York's Museum of Modern Art prove that Barbara Kruger's bold textual statements have lost none of their power or urgency.

The Download: One of the most revered artists of her era, Barbara Kruger rose to prominence in the '80s for her simple yet confrontational collages—word-image combinations overlaid with blunt observations in bold white text on blood-red blocks—that, as she describes, "broadly address what it means to be alive on this planet." Concise, direct, and unsparing, they expose and interrogate power dynamics and gender injustices.

Perhaps the 77-year-old Pictures Generation superstar's most famous work is Untitled: Your Body is a Battleground, a silkscreen that depicts a woman's face split in positive and negative exposures, creating a stark divide. Produced for the 1989 Women's March on Washington in support of reproductive freedom, the image is a potent example of protest art.

It's just as relevant today, circulating widely after Politico leaked a Supreme Court draft majority decision—passed almost two months later—to overturn Roe v. Wade, effectively eliminating the constitutional right to abortion in the United States. Kruger quickly responded to the ruling with an op-art piece that reads "If the end of Roe is a shock, then you haven't been paying attention."

To be clear, Kruger is dialed in. Earlier this year, she revealed her habit of scrolling "ideologically intense" websites like anonymous forum 4chan and defunct Neo-Nazi site Stormfront. "Every time I hear people say they are shocked, I'm like… [shakes head]," she told the Los Angeles Times. "It's that failure of imagination that has led us to today." She continued: "It would be kind of good if my work became archaic."
Until then, there's ample meaning to plumb from her latest exhibition, "Thinking of You. I Mean Me. I Mean You," which opened at the Art Institute of Chicago and Los Angeles County Museum of Art before landing at New York's Museum of Modern Art through Jan. 2. (Another solo show recently filled up all three of David Zwirner's spacious Chelsea locations earlier this summer.)

Enveloping the museum's triple-height Donald and Catherine Marron Family Atrium are her signature statements, rendered dizzyingly in alternating black-and-white capitals that seem to shout messages of doom and cynicism. Among them is a rethink of a Virginia Woolf quote: "Women have served all these centuries as looking-glasses possessing the magic and delicious power of reflecting the figure of man at twice its natural size." Another, taking up the entire floor, comes from George Orwell: "You want a picture of the future, imagine a boot stamping on a human face, forever."
Kruger has never been interested in trademarking her work, which may explain why copycats frequently appear on signs, billboards, and at abortion-rights protests, or why streetwear giant Supreme lifted her signature white-on-red Futura type for its logo. (When Supreme sued like-minded label Married to the Mob for infringing on its logo, Kruger called the spectacle "a ridiculous clusterfuck of totally uncool jokers.")

The latter speaks to her wide-ranging influence on visual culture that continues to grow more than four decades into her career. "Next to Warhol," says Mary Boone, the former gallerist who represented Kruger until 2019, "there's not another artist, aside from perhaps Cindy Sherman, who's been as influential for what things look like and how people see the world as Barbara."

In Their Own Words: "My work is seldom incident- or event-specific, but tries to create a commentary about the ways that cultures construct and contain us," Kruger told The Guardian. "I've always said that I try to make work about how we are to one another. I see this as an ongoing project."
Surface Says: If there's one takeaway from Kruger's work, look no further than the wise words she emblazoned on skateboards at Performa 2017 in a sly rebuff to Supreme: "Don't be a jerk."
| | |
| --- | --- |
| | What Else Is Happening? |
| | |
| --- | --- |
| | Bowlus debuts the mirrored Volterra, what it bills as the world's first all-electric RV. |
| | |
| --- | --- |
| | An AD spread scrubbed allegedly looted Cambodian art from a collector couple's mansion. |
| | |
| --- | --- |
| | Buyers of Frank Stella's new series of NFTs also obtain rights to 3D print the works. |
| | |
| --- | --- |
| | Investors are bringing a group of green container homes to Chicago's South Side. |
Reach the design world every morning. Find out more about advertising in the Design Dispatch.
Whether envisioning new modular shelving units or woven baskets, Jamie Wolfond describes himself as a maker of things inherently suited for production. The Toronto-based designer and former owner of beloved homewares brand Good Thing often allows observations from the material world to inform his ideas, such as mimicking the whimsical forms of bendy straws or recreating the frozen shadows of a boulder blanketed in growing lichen. The latter informs his latest series of cast gypsum cement sculptures currently on view at Matter Projects, which he spray-painted in an array of colors and marked with various carvings that represent the tangible results of his experiments.
| | |
| --- | --- |
| | At Sixpenny Loft, a European Retreat in Downtown Brooklyn |
It wouldn't be fair to call the Italian oil paintings, antique French tapestries, and Turkish rugs that grace Sixpenny's Brooklyn loft and HQ a "backdrop" for the brand's selection of furniture. Instead the decor, paired with architectural touches like travertine floors and carved wood doors, complements a global point of view that sees designs created in New York City incorporate fine linen upholstery sourced from France and reclaimed oak from Austria. Daybeds, sectionals, and tables from the direct-to-consumer furniture purveyor are on view throughout the space, which doubles as a spot for the Sixpenny team to take appointments, co-work, and host events. With the state of global travel still in disarray, there's something to be said for such transportive design.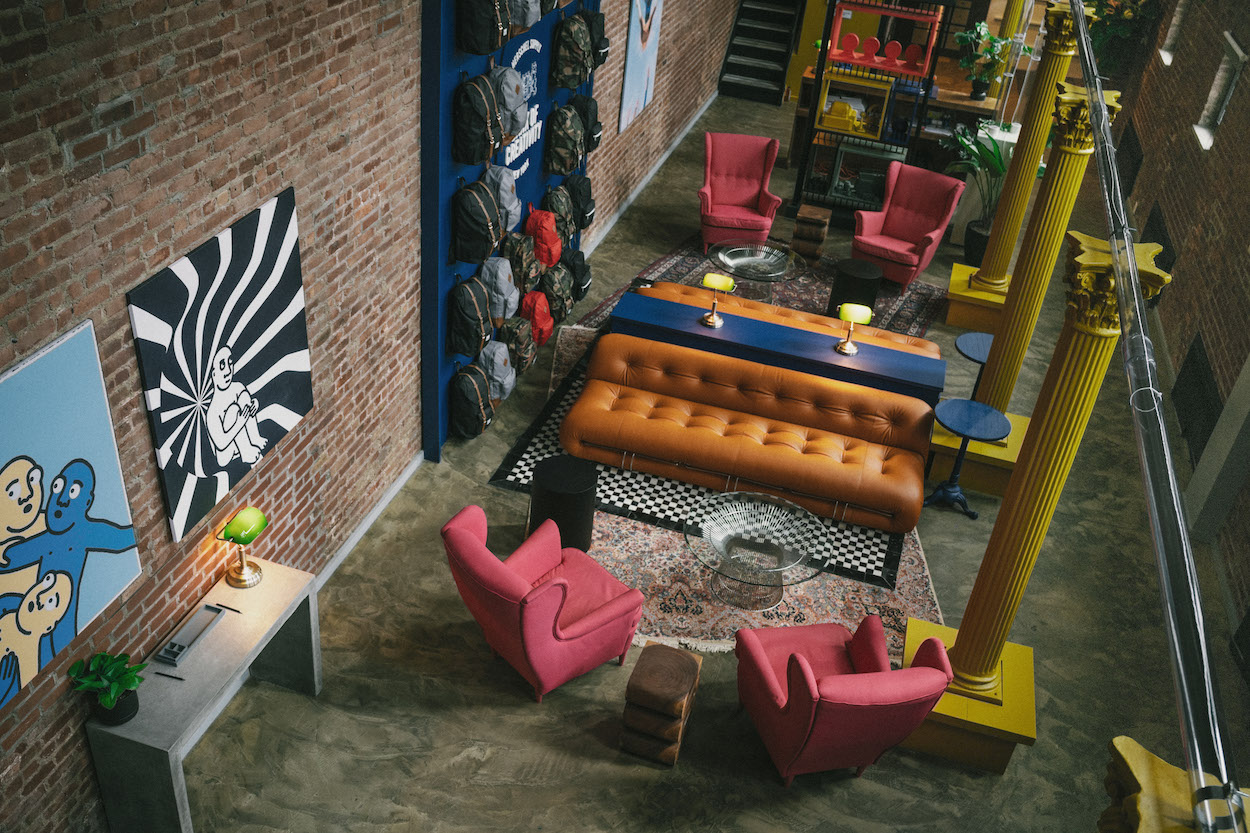 | | |
| --- | --- |
| | ICYMI: A Bank That Lends Materials and Mentorship Instead of Money |
Creative entrepreneurs often struggle when trying to take out small loans. Relying on the sale of music, artworks, photography, or new-to-market products isn't a particularly desirable investment for banks due to the difficulty of putting guaranteed ROI behind creative work. Especially when tackling commissions that only pay out upon completion—a process that can take months—artists bear the financial brunt of purchasing supplies or renting studio space without much financial cushion to fall back on.

That struggle resonated with Herschel Supply founders Jamie and Lyndon Cormack, who made a financial gamble when launching their design-driven travel accessories brand in 2009. Though the label has since become a successful purveyor of stylish and sturdy backpacks, the brothers recall "sleepless nights, anxious moments, and small triumphs" as they got their business off the ground, Jamie says. "It was about taking a risk, trying something new, and understanding that failure was just as probable as success." Having experienced institutional underfunding firsthand, the Cormack brothers are giving back with the Herschel Supply Bank of Creativity.
| | |
| --- | --- |
| | Member Spotlight: thehighkey |
thehighkey is a design studio that creates rare objects and environments. The name refers to a condition in which people are elevated. It's from this vantage point that thehighkey operates, leveraging digital technology to produce concepts that go beyond the norm. thehighkey's work is a mix of forms and materials from the past, present, and future. In a world saturated with fast fashion, thehighkey defies standards to create designs made to last.
Surface Says: Founder John Vieweg applies an artistic lens to the industrial, bringing humanity into manufacturing and leveraging digital technologies to produce the extraordinary.
| | |
| --- | --- |
| | Today's Attractive Distractions |