"It's important to not only design something beautiful, but design something that will influence how someone behaves."
| | |
| --- | --- |
| | In London, Es Devlin Plants a Forest for Change |
What's Happening: For the London Design Biennale (June 1–27), the lauded set designer plants a forest at Somerset House to raise awareness about the UN's Sustainable Development Goals.

The Download: When Es Devlin first toured Somerset House two years ago after being named artistic director of the London Design Biennale, she was told that the only thing she couldn't do with the courtyard was plant trees. ("It's been written into the building's architectural covenant, based on the Palladian Enlightenment principles of the triumph of human design over nature, that you can't put any living trees in this courtyard," she notes.) So that's exactly what the set designer did for this year's edition, which is one of the first events to occur in London since the pandemic.

Created in collaboration with landscape designer Philip Jaffa and Scotscape and presented with Project Everyone, "Forest of Change" is both the Biennale's centerpiece and a transformative site that aims to amplify the UN's Sustainable Development Goals. As visitors wander through the verdant setting, which features 23 tree species native to the U.K. and northern Europe, they find a circular arrangement of colorful mirrored plinths—each inscribed with one of the 17 objectives—that aim to provide a more sustainable world by 2030. The installation is also carbon positive: Each of the 400 trees will eventually be donated throughout London as part of local tree-planting initiatives.
Climatic concerns have been top of mind for Devlin, who recently vamped on Florida's rising sea levels through an immersive, maze-like installation at Superblue in Miami. Before viewers enter her mirrored labyrinth, they view a three-minute film that draws parallels between the bronchial trees that exchange oxygen for carbon dioxide within our lungs and the trees which exchange carbon dioxide for oxygen in the environment. The goal, says Devlin, is to "understand that the exchange of gas that's going on inside of us and outside of us is mutually independent."

In Their Own Words: "The idea with this particular forest is that as you travel through it, you reach a clearing that is full of a statement of the UN Sustainable Development Goals," Devlin says. "These goals are complex problems, but when you see them in those colors with those simple symbols, they feel less overwhelming. It's my hope that when you get to the center, you're able to approach these really complex global problems without feeling so daunted or overwhelmed."
Surface Says: Though "Forest of Change" feels like one of Devlin's most ambitious projects to date (and that's high praise), something tells us that her meditations on the major crises of our time are only getting started.
| | |
| --- | --- |
| | What Else Is Happening? |
| | |
| --- | --- |
| | Google gets approved to build a multibillion-dollar megacampus in downtown San Jose. |
| | |
| --- | --- |
| | In a stellar debut, the stylish medical scrubs disruptor Figs gets valued at $4.57 billion. |
| | |
| --- | --- |
| | New York's Black Wall Street gets defaced on the Tulsa Race Massacre's 100th anniversary. |
| | |
| --- | --- |
| | Australia's tallest residential tower rises in Melbourne with a "starburst" design element. |
| | |
| --- | --- |
| | According to a new survey, Black people are severely under-represented at L.A. museums. |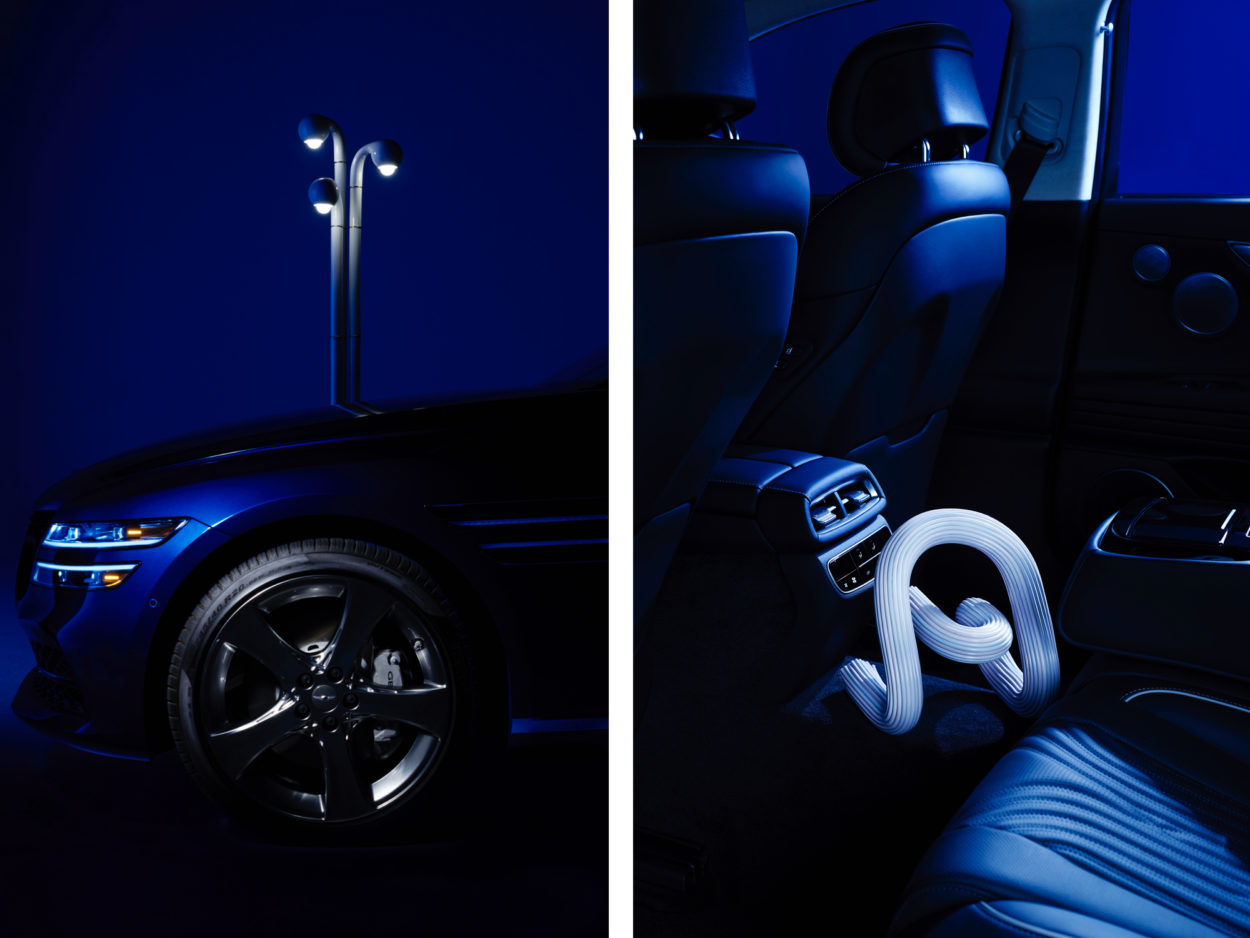 | | |
| --- | --- |
| | Genesis G80: The Beauty of Curves |
To celebrate the launch of the new 2021 Genesis G80, whose redesign is a study in dynamic lines and parabolic contours, Surface partnered with the Korean automotive brand to explore the beauty of curves and the scientific impact of non-linear shapes on the brain. In concert with the story, we transformed the G80 into a canvas for an unconventional photoshoot, recasting the vehicle as a design gallery to display the work of influential artists and designers such as Bari Ziperstein, Shinque Smith, Entler, and Ara Thorose. The result showcases the 2021 G80 through a dramatic new lens, in a holistic environment with kindred objects of desire.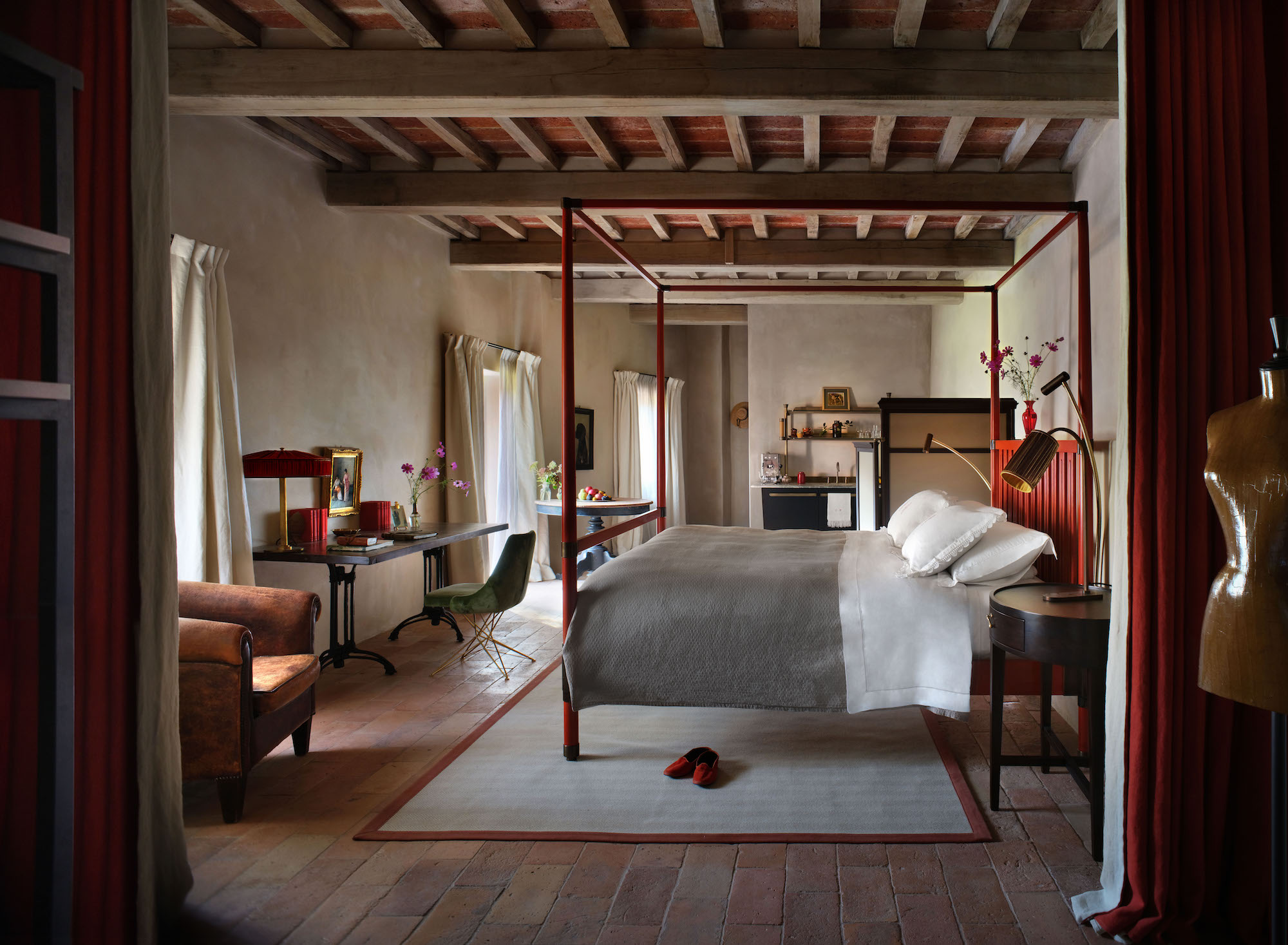 | | |
| --- | --- |
| | A Crumbling Castle Gets Transformed Into a Seductive Italian Stay |
Name: Hotel Castello di Reschio

Location: Umbria, Italy

Designer: Benedikt Bolza

On Offer: Situated on 3,700 acres of pastoral countryside in the Umbrian hills, Reschio Estate has been the Bolza family's labor of love for nearly 30 years. When Count Antonio Bolza, a former art book publisher based in Germany, and his architect wife, Countess Angelika, first purchased the crumbling property in 1994, they set out to restore it to its former glory. The couple's son and daughter-in-law, Benedikt and Nencia Bolza, have since taken the reins, meticulously refurbishing the decaying farmhouses into rental villas.

Now comes the pièce de résistance, a 36-key hotel situated inside of a 10th-century castle on the grounds. A former 1940s tobacco factory on the premises serves as Benedikt's studio and workshop, where he custom-fabricates beds and lighting fixtures as part of the B.B. for Reschio furniture line. Available for purchase online, the pieces reside in each of the suites—30 inside the castle, six outside near the Parish Church of San Michele—which are done up in terracotta brick and wooden floors, hand-stitched linen curtains, and Italian–crafted brass vanities. Artful flourishes accent the furniture, including Nencia's trompe l'oeil paintings and vintage olive presses sourced from local antique markets.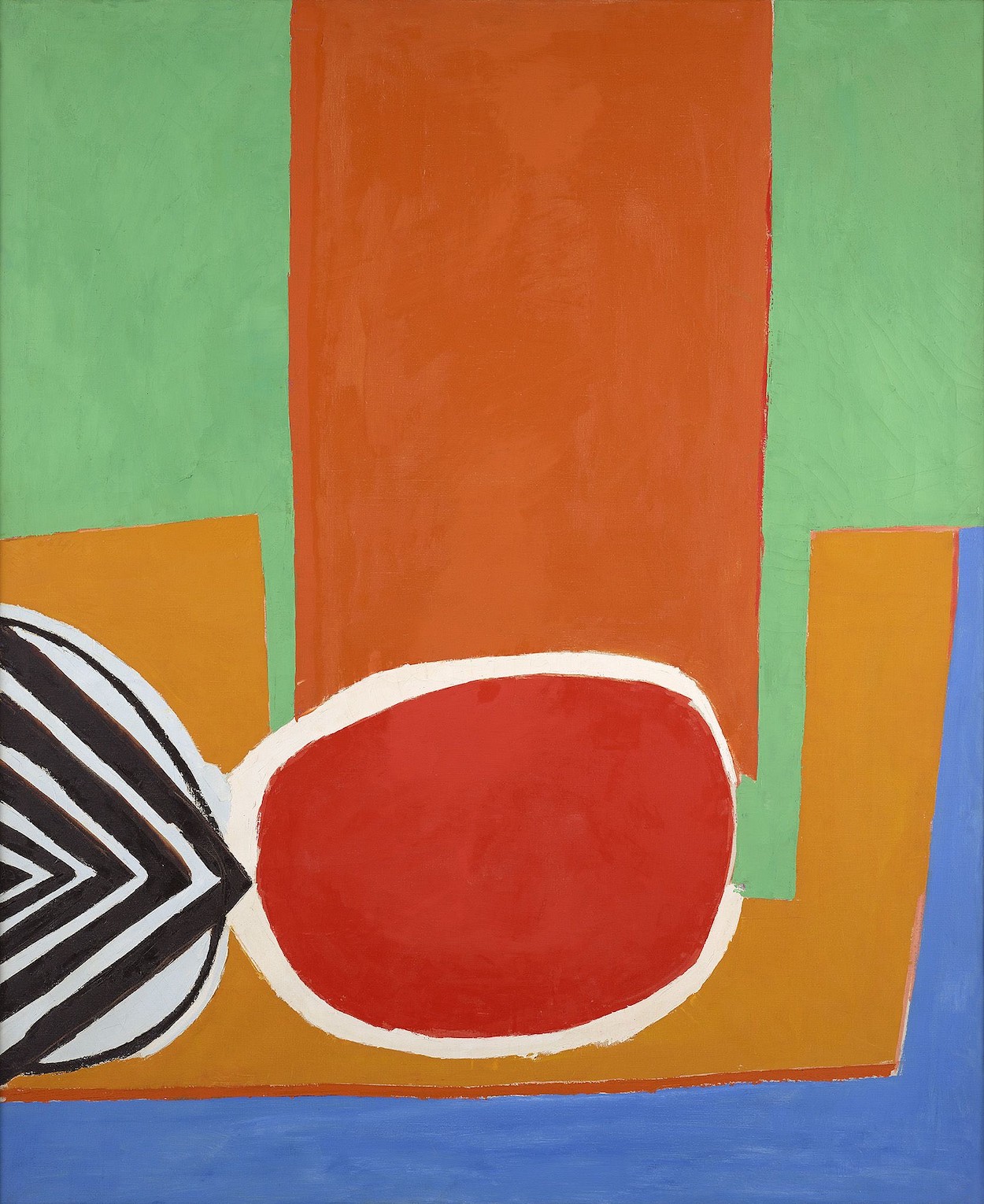 | | |
| --- | --- |
| | Edward Zutrau: Mandarin (Paintings from the 1950s) |
When: June 3–July 2

Where: Berry Campbell, New York

What: The first exhibition of the abstract expressionist painter's works since his death, in 1993, "Mandarin (Paintings from the 1950s)" showcases how Zutrau blended precepts of the New York School with a strong physicality—geometric spatial divisions and strong gestural marks—to draw viewers into both the feeling and contemplation of movement.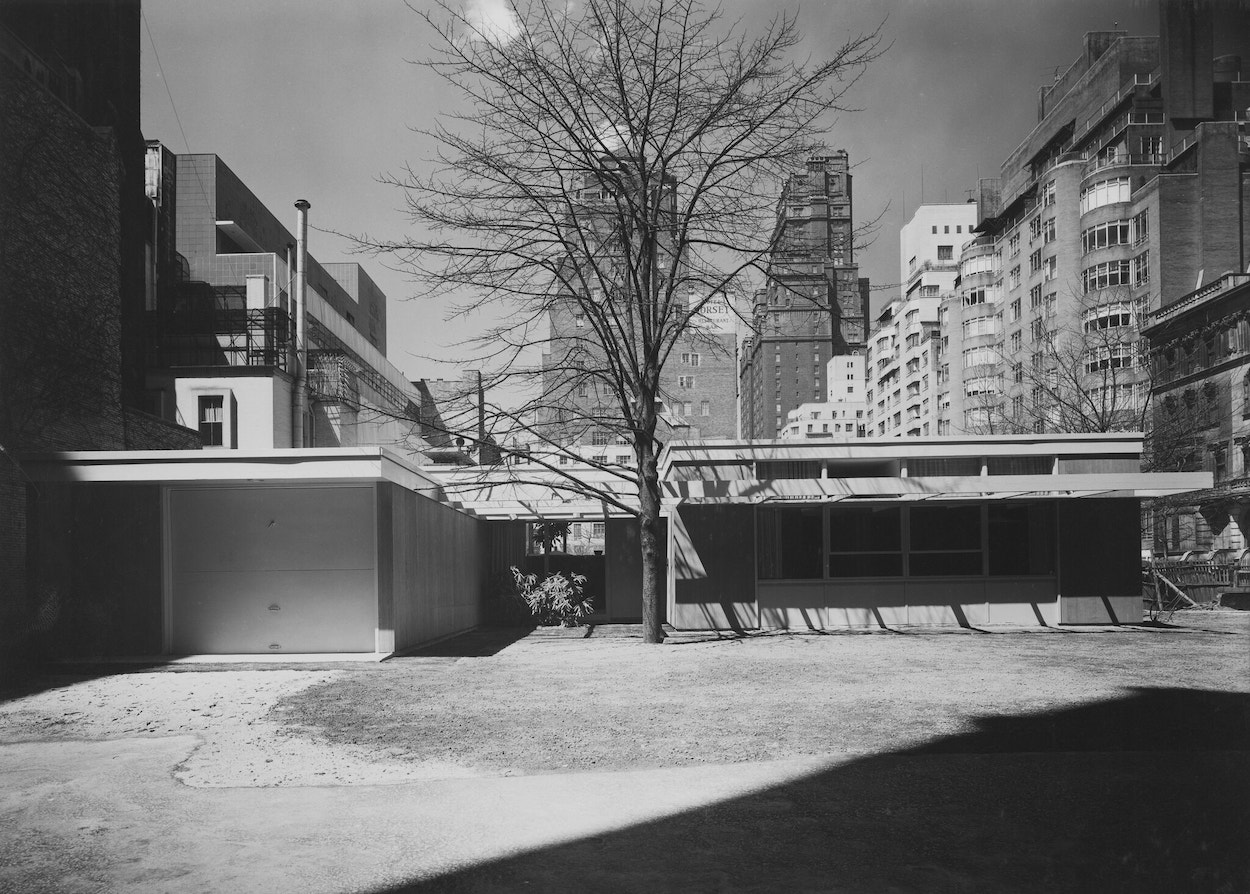 | | |
| --- | --- |
| | ICYMI: Gregory Ain's Long-Lost MoMA House Gets Rediscovered |
Gregory Ain may not be a household name outside of Los Angeles, where he brought elements of modern architecture to low-cost housing, but he masterminded New York's most famous house for a few months in 1950. Situated atop the Museum of Modern Art, the glass-walled dwelling was meant to inspire budget-minded creativity for then-new residential subdivisions. According to a museum brochure, the two-bedroom house's movable wall system "conveys an illusion of spaciousness" while expansive windows offered unencumbered views; furnishings were practical, mass-produced, and unfussy, many designed by Charles and Ray Eames.

Though the home wowed visitors, it fell into obscurity once its stint at the museum ended. It essentially disappeared until George Smart, the architectural historian who founded North Carolina nonprofit USModernist, pored through MoMA's archives and discovered the structure was still standing in Croton-on-Hudson.
Following stops in Tokyo and Milan, Fendi's pop-up cafe has emerged in Miami's Design District. The fashion house's design team adorned the space in the brand's signature yellow and a curvaceous pattern reminiscent of artist Sarah Coleman's FF Vertigo capsule collection. On the menu: Italian specialties, summer aperitivos, all-day breakfast, and house-baked pastries.
Reach the design world every morning. Find out more about advertising in the Design Dispatch.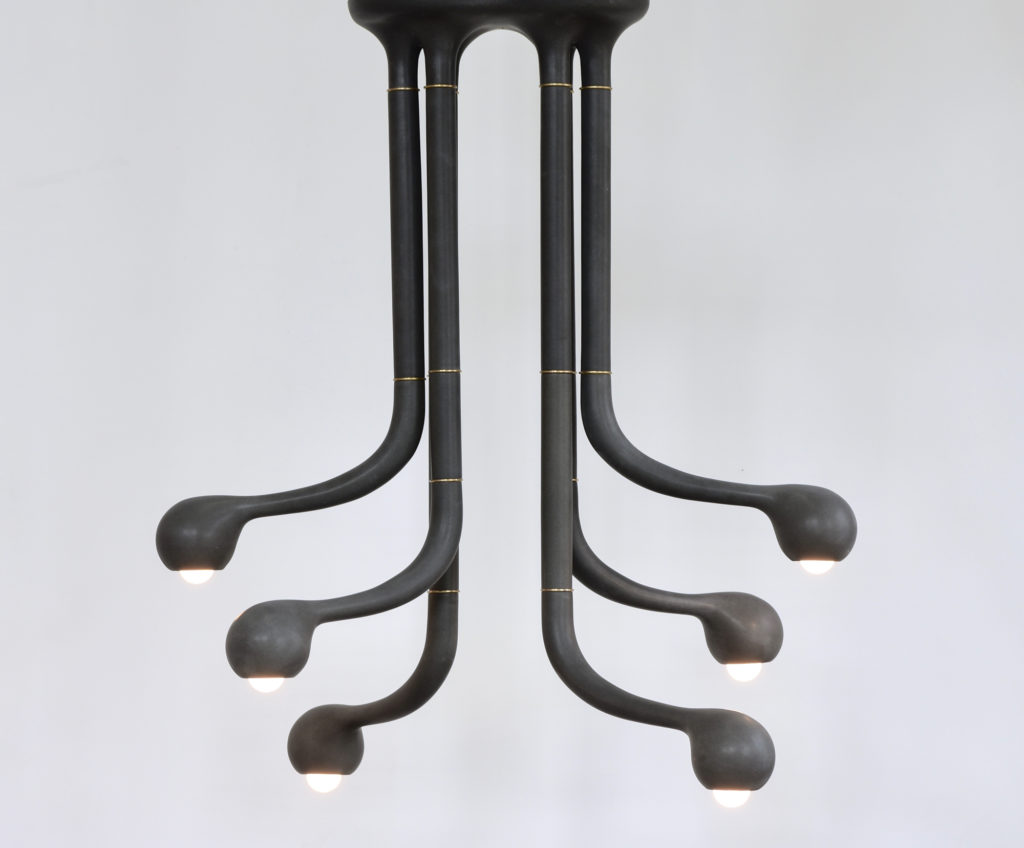 | | |
| --- | --- |
| | Member Spotlight: Entler Studio |
Entler Studio is a ceramic lighting and design brand based in Los Angeles. Founded by Jonathan Entler with a small line of table lamps, the studio has expanded to produce a full collection of lighting, including sconces and floor lamps.
Surface Says: Once you've laid your eyes on Entler's signature bulbous shape, you'll find yourself noticing it all around you—or, at least, in the most cleverly curated interiors you encounter. Venues adorned with the studio's work include design-minded spaces like Coming Soon, D.S. & Durga, and the Wing.
| | |
| --- | --- |
| | Today's Attractive Distractions |
This German castle's eerily lifelike marble skull was actually a Bernini original.

Sinuous new furniture by Piero Lissoni stars in a playful short film for Knoll.

Elon Musk thinks that Neuralink brain chips will "end language" in ten years.

Recreate the magic of Frank Lloyd Wright with these buildable miniatures.